Handbags meets Digital Media. Showing the bad ethics, hypocrisy and stupidity of the companies behind our TV Shows, our documentaries, our movies, and our music.
In day to day life it is hard to sometimes appreciate the restrictions put on us because they become camouflaged into our every day life and are just accepted as the norm. The media industry is trying to camouflage a lot of unethical restrictions to become the norm of how we consume video and music. This will result in us paying more money while slowing down the human race by reducing the flow of information and entertainment.
Applying the logic of the digital media industry to the handbag industry may seem like an unorthodox topic for BagBunch.com, but it sure does point out the hypocrisies and bad ethics of certain media companies and organisations. This is an area that is relatively well-known among tech geeks, but is often not recognized among a lot of the population – this article aims to bring to light some of those issues in the media industry.
What the media industry tries to do can get a bit confusing being a fracas of technical and legal jargon. So comparing how one complex industry works, with a more understandable and tangible industry like handbags helps to put things in perspective.
Some of the analogies below are not intended to be a 100% accurate contrast, but an informal and tongue-in-cheek way to point out the hypocrisy, stupidity and bad ethics of certain elements of the media industry.
Welcome the HIAA
The media industry sees the likes of the Recording Industry Association of America (RIAA) and the Motion Picture Association of America (MPAA) serving the interests of big music and video companies to ultimately make them more money, putting ethics (and often law) aside.
The handbag industry could benefit from a similar organization, The Handbag Industry Association of America (HIAA).
Replica Handbags Fund Terrorism and Drug Trade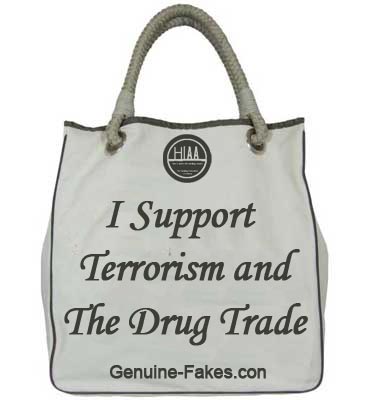 Pointing out the inadequacies of replica handbags to their higher quality originals is a common standpoint of handbag designers, but they are not going far enough.
If the handbag owners took some tips from the Movie Picture Association of America (MPAA) then they could soon be putting out propaganda stating replica handbags fund terrorism and support the drug trade.
Naked YouTube Videos
If you want to post a video of yourself on YouTube you best get naked. The rights holders in the music industry won't let you play a snippet of your favourite song in the background of your YouTube video without being sued, so the fashion industry won't let you wear your handbag or even your clothes in your YouTube video as someone (probably a terrorist or drug dealer) could steal the design.
High Online Bag Prices
Handbags sold or rented online would be introduced at a higher price than those in regular stores to protect traditional sales in the shops, just like with movies rented and sold online. This price fixing would make absolutely no sense and would achieve nothing but ripping off the consumer.
Get Sued for Sharing Handbags
If you buy a handbag don't expect to share it with your friends unless you want to be sued for a crazy amount. Just as the Recording Industry Association of America (RIAA) likes to sue music sharers for up to $150,000 per $2 track the handbag companies could sue handbag sharers.
By RIAA standards if a guilty party shared a $30 handbag with friends they should be sued $2,250,000. Obviously making wild and unsupported claims of the damage handbag sharing does to the handbag industry will come as standard for the HIAA.
HRM for Handbags
Handbags purchased or rented will be built in with a series of high-tech security features to prevent sharing of the handbag, restrict the ways it can be used and/or prevent copying of the design, all at the cost of the consumer's experience.
The media industry is keen to include more Digital Rights Management (DRM) which dictates how people can share and use their music and video, for example, preventing you from backing up your iPod music to a CD in an effort to 'fight piracy'. The handbag industry could introduce Handbags Rights Management (HRM) which controls how people can use a handbag they paid for.
See the next couple of points to see how HRM could be used in the handbag industry.
Handbags Only Work in One Country
So you buy your handbag while abroad on holiday only to get back and find it doesn't work in your country because the handbag companies purposely made it that way. As soon as your plane lands home items just fall out of the bottom of your bags and suitcases.
This is a tactic the media industry has used for decades preventing people from using media and electronic devices in different countries. It sounds completely crazy and would not be accepted for a handbag so why do we accept it with media and electronics?
Handbags for One Outfit Only
Handbag companies have shown a distinct lack of imagination when it comes thinking of ways to squeeze every last penny out of the consumer. Compare that to the broadcasting industry that have some very imaginative plans.
The broadcasting industry is keen to establish laws and technology that would only allow the music or video you buy to be accessed from one device. So, for example, if you purchased a downloadable movie online, it would be illegal for you to stream that movie to your own TV set, or copy it to a DVD to watch at your friends house. In essence they want you pay for use of the video or music per device you want to use it on.
Applying this to the handbag industry you would only be able to use your handbag with a single outfit. Want to wear it with a different outfit then you would have to pay for it again. Own only one handbag then be prepared to wear the same outfit day in and day out.
This makes just as little sense in the bag industry as it does in the media industry.
Support Fair Rights in Digital Media
You can support fairness and consumer rights in the digital media industry by joining or donating to the Electronic Frontier Foundation or The Open Rights Group.