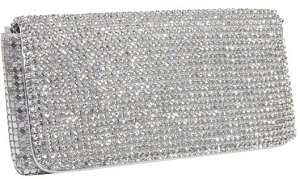 J. Furmani amps up the glam with its sparkly Crystal Clutch.
This purse follows in the footsteps of the crystal covered creations of high end designers like Judith Leiber and Kathrine Baumann. However, happily for J. Furmani fans, the label hasn't inflated its usual prices. At $65, it's a fraction of the cost of those luxury purses.
Of course, that low cost doesn't come without some compromises. The crystal clutch isn't studded with real crystals at all. While the big names use Austrian crystals, generally from the house of Swarovski, J. Furmani's opted for run of the mill rhinestones. It's also kept the gems on the front of the purse, and picked cheaper metal mesh on the back. As a result the purse lacks the cohesiveness of comparable models.
The design is also a bit uninspired. Where those revered designers would have played with the clutch's shape and an assortment of colored gems, J. Furmani shows no such flair.
While we all drool over those glittery designer purses, few of us have the social calendars to justify their expense. This Crystal Clutch might not hold a candle to them, but it's a decent compromise for girls on a budget.
More Features of This J. Furmani Rhinestone Covered Clutch
Zip closure
An interior slide pocket
A drop-in chain strap with a 22 inch drop
Measures 1 x 9 x 4.5 inches
Get this J. Furmani Crystal Handbag:
Available to buy on eBay (see listings below):

[phpbay]J Furmani crystal clutch, 2, "", ""[/phpbay]
You may also be interested in: