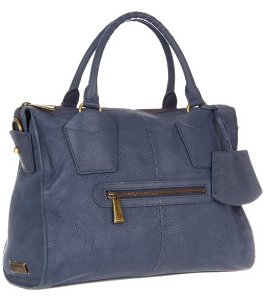 Botkier keeps it classy with this Jackson Satchel bag.
I love the way Botkier's brought an urban sophistication to the classic satchel shape. The design is clean, and the soft cowhide body gives the silhouette just a hint of slouch. The diamond stitching adds a bit of personality to the finish without detracting from the Jackson's classic appeal. The cobalt blue color is the perfect match for a wardrobe full of denim, while the black and rustic brown hues are more traditional options.
The Jackson looks like it'd be right at home in the big city, and it has everything that busy urbanites need to get through the day. The interior is spacious without being overwhelming, and packed with practical pockets. Each one is reinforced with leather to help it last. The short straps will be a little awkward to use if the Jackson's packed to capacity, but Botkier's also provided a longer cross-body strap to help us out.
Really the only thing I wish for is some metal feet on the base. The cowhide is so sumptuous that it deserves protection. Without this important feature, you'll need to watch where you sit it to avoid early aging.
At $395 though, the Jackson doesn't need to be perfect. That's relatively affordable for such a well-made designer bag.
More Features of This Botkier Cowhide Satchel
Zip closure
Fabric logo print lined interior
A custom key holder with a hidden clip
A front zip pocket
Dual handles with a 4.5 inch drop
A removable strap with a 15 to 19 inch drop
Measures 11.5 x 12.5 inches
Made in China
Get this Botkier Jackson Handbag:
Available to buy on eBay (see listings below):

[phpbay]Botkier Jackson, 2, "", ""[/phpbay]
You may also be interested in: